In today's growing competitive world, the most important factor for any sales centricorganization is to increase the Sales Force's touch time and help them spend the least time in sales planning and data acquisition. A Mobile SFA solution like ZooM, helps the sales force is reducing the sales planning time by almost 50%, by providing route plan, help to sell features (customer's buying pattern, last 4 sales, invoices and outstanding details etc.), providing the latest products and promotion details etc. which is a must for any sales oriented business, of any size and scale.  There are multiple tasks and sales processes which need to be managed and monitored hence for effective management it becomes imperative for such organizations to go in for a sales management solution which will help in expanding the reach and enhancing productivity and profitability.  With reduced costs of mobile devices and with the BYOD concepts, today mobility solutions like ZooM are helping organizations increase the field touch time, which in turn helps in increased order value and a thicker bottom line.You have to see it to believe it – here is a success story that proves the worth of this wonderful solution.
ZooM is a Sales Force Automation solution from SPEC INDIA, which is field service software for industries like FMCG, Healthcare, Food & Beverages, Pharmaceutical & Manufacturing units. Built with the experience, domain knowledge and industry best practices in the area of field sales, ZooM provides an end-to-end solution encompassing front end mobile client – used by the field sales force, back office – used by the back office staff and management to maintain data and do information analysis and communication services – required to transfer data between the two systems. The main objective of ZooM is to double the sales with a happy field force and thereby help manage, plan and execute sales routines for target markets. A scalable and portable product, it supports multiple platforms viz. Java, Windows and Android.
ZooM – A Digital Transformation of Field Force Activities to the Optimum
This flagship Mobile Sales Force Automation solution, designed with attractive offering models to suit small, medium and large enterprises, with a dedicated focus on mobilization and automation of routine activities of the sales force, customer executives and field representatives who are on the move. This feature rich Mobile Sales Force solution has been developed exclusively to connect the mobile field force with the corporate back office ensuring a real time, seamless and comprehensive information flow between the two. It handles end-to-end field sales force automation workflows showcasing the synergetic integration between planning and execution of sales force activities with the real time availability of business critical information.
Following are the key inclusions of the innovative Field Force Automation Solution:
Direct Sales / Van Sales / Mobile Sales
Pre-sales
Survey / Feedback
Route planning / Beat planning
Order taking to Invoicing
Summary Reports / Graphical Dashboard
Lead Management
Mobile Invoice
Bluetooth printer integration
Deals / Promotions
Why is ZooM a Popular Mobile Sales Force Automation Solution Worldwide?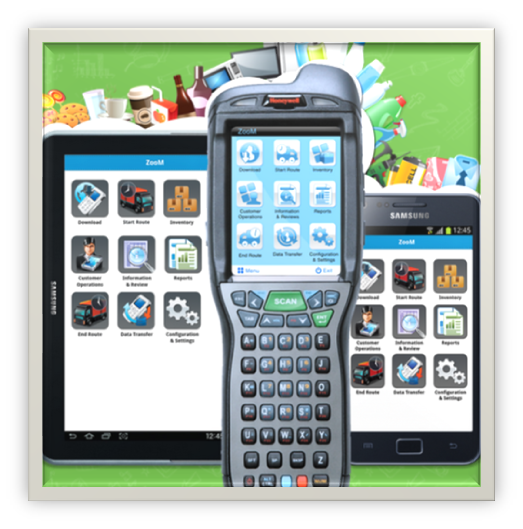 What better than proven implementations to showcase the popularity of ZooM! Owing to the salient features and benefits of this solution, there are two of the best implementations of ZooM to showcase – A global solution for Enterprise Mobile Field Sales Force Automation System for world's renowned Fortune 100 enterprise – a FMCG giant in Food & Beverages industry, in USA and Europe and a Mobile Sales Force Automation System for Domestic Market (Pre-Sales Module) for one of the largest FMCG companies in India, having collaboration with a renowned German unit for various washing & cleaning products.
Salient Features:
Customizable to fit any type of industry viz. FMCG, Manufacturing, Health and Wellness, Consumer durables, Automotive segments and more
Back office connectivity through GPRS, 3G mobile internet, Wi-Fi or Blue tooth. Configurable for email integration, bar code scanner and SMS integration
Seamless integration with standard third party legacy systems (SAP, Microsoft Dynamics-Ax, Navision, Sage ERP, Tally, Quick Books etc.
Key Benefits:
Achieve more than 30% faster Return on Investment through improved efficiency and effectiveness of field sales force team
Increase productivity and enhance market reach
Reduce sales planning time of sales force by almost 50%
Go to market in as low as just 5 business days
Improved efficiency and effectiveness of field sales team by 40 – 50 %
Reduced sales cycle time, order booking enhanced by 40+%
Increase profitability and faster Return on Investment (RoI)
Daily Sales data availability to back office enabling faster MIS report generation
Online management dashboards to evaluate demands and consumption
Effective sales planning strategies leading to rise in sales revenue and market share
Increase efficiency and market reach with reduction in service time with optimum sales staff
Reduction in Total cost of ownership, response time between field staff and back office
Yet another feather in the cap is the seamless integration of ZooM – our robust mobile sales force automation solution with SPEC INDIA's enterprise value added solutions – Vehicle Tracking System (VTS). One more highlight in our kitty of enterprise business solutions for field sales force is eCRM – our competent and comprehensive CRM solution to fit the needs of large enterprises.
To Zip Zap Zoom your Sales, download the free demo version of ZooM from Google Play Store and experience the capabilities of some of the most prominent features of ZooM. How else would you experience the efficiency and robustness of this comprehensive mobile sales force automation solution? Try it to believe it!!!
To convert to a complete end-to-end solution for your organization, ask for a demo or visit www.mobilesalesforceautomation.net
Visited 451 times