Fast moving consumer goods is a completely different ball game as far as implementing a field force automation system is concerned. With a huge network of distributors and retailers, the large number of items to be sold and markets to be catered to and monitoring the large number of sales force involved; FMCG becomes a tough nut to crack. Competent SFA systems keep up pace with FMCG.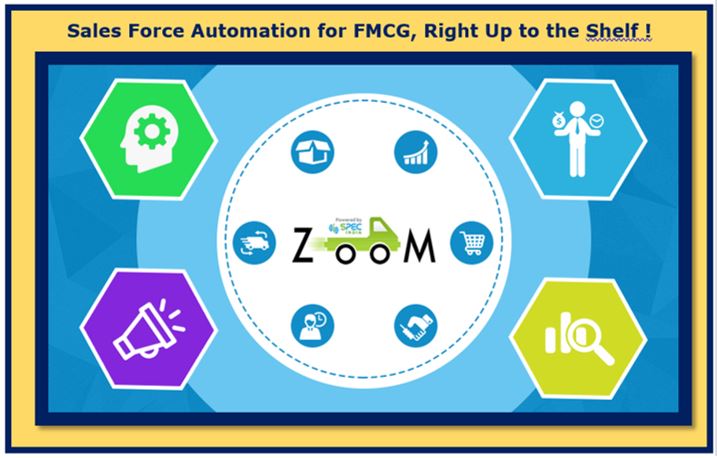 Implementing Contemporary Methods of Sales & Marketing

A sales cycle for FMCG comes with its own set of challenges. Keeping track of things from leads to culminations is a big task as FMCG is a very dynamic industry to handle with sales set up across wholesalers and retailers.

With intelligent market satisfaction comes a completely new way of marketing; personalized marketing. A SFA integrated with mobile devices provides a convenient platform to have targeted campaigns to suit the pulse of the location. Add to it the benefits of putting social media opens up a more reachable way of marketing.

Intelligent shelf displays too can be devised using a prudent SFA for the correct user engagement at POS.

All in all, when information remains on the fingertips of all concerned 24*7, SFA is bound to give the much needed push to sales.

Handling Stock Levels & Predicting Requirements

The stocks in a fast moving consumer goods scenario are of diverse varieties and need to be handled in different manners as they could be both perishable and nonperishable with a short life or long. Without any sort of automation, it is very difficult to keep a track of goods coming to the end of their lives or already expired.

Predictions and forecasts give out cautions and alerts for timely procurements avoiding any 'out of stock' situations.

Procurement & Distribution

The distribution channels when not manned by a combination of devices and software, puts forward a great task to keep a track of retailer requirements and the distributor capacity. A seamless integration achieved by the SFA makes it possible for a smooth procurement to sales cycle.

Once a sound SFA is in place, prudent predictions make the procurement and distribution cycles more efficient and productive.

Vehicle Tracking

GPS enabled van sales tracking apps are better integrated into the SFA itself and without these keeping a tab on vehicular movement and the hindrances they face become very difficult to track.

Integrating logistics becomes indispensable for the success of sales force automation.

Keeping Tab of Customer Feedback

Integrating customer feedbacks and complaints turns out to be a nightmare when automation is not implemented for FMCG simply because of the sheer number of end customers. Automation means taking into account troublesome situations and take correct actions to avoid repeats.

Assured customer satisfaction this way becomes a part of SFA, alerting the sales workforce to tackle every segment of market with correct appropriateness.
ZooM for Field Force Automation
A mature sales force automation system built using the best practices of field sales force; ZooM emerges as a very successful Enterprise Mobile solution for Field Sales Automation for FMCG, Healthcare, Food & Beverages, Pharmaceutical & Manufacturing Industry implemented for leading fortune 100 clients across the globe.
It is an end to end solution with mobile client, back office and communication services to manage, plan and execute sales routines for target markets.
Technical Features

Scalable and portable
Multiple platform support
Data synchronization
Supports Online & Offline mode
Local data storage for remote area field activities
Customizable to suit tailored requirements
Seamless integration with any third party ERP / Legacy system
Configurable to accommodate any add-ons:

Bluetooth Support for Mobile / Desktop Printer
E-Mail Integration
Bar Code Scanner
SMS Integration

Benefits of ZooM for FMCG

ZooM, along with its much acclaimed benefits across industries and domains, brings in special advantages for FMCG as well.

Efficient Supply Logistics
Designing Relevant and Enticing Displays at Stores
Stock Management
Tracking vehicles and stock on the move
Maximizing Sales Person Utilization

Daily Tasks Scheduling
Connected and Aware Teams
Task Management

Product Profiling
Profiling Entities
Order Management

Reminders for Follow-ups
Tracking Payment Status

Secure Communication
Fully Mobile
Marketing Audits
RoI based Reports
Competitor Intelligence under Surveillance
Seamless integration with existing systems

In a Nutshell

Specialized SFA systems for FMCG gives the sales force the much needed answers to their day to day questions.

What stores need to be visited?
What are the best promotions and deals for which store?
Is the shelf organized enough at this store?
Which distributor is the best to be approached for which product?
How long will it take the products to reach the store?
What is the sales history at this store?

The answers empower the sales force to decide further course of action and provide the key decision makers the much needed insights to achieve enhanced performances.

ZooM emerges as a very powerful sales force automation software from SPEC INDIA.

Visit & Request A FREE DEMO To Know our Solution Better

Visited 101 times