Enterprises across industries & domains look forward to integrating technology to offer exemplary services to the customers and streamline sustainable operations. The well-established methodologies like Mobile Sales Force Automation Software, customer relationship management and enterprise resource planning powered by technologies like mobility, BI & Analytics, Big Data, Sensor based approaches, IoT & Cloud gear up for millennial age enhancements in the way things are done in the enterprises.
A Sales team supported by a competent Sales Force Management system in place is instrumental in providing a great overall experience to the consumers simplifying the sales cycles and arriving at logical means to achieve higher & quicker closure rates.
With established comprehensive presence in industries like Pharmaceuticals, Logistics, FMCG and more, SFA becomes indispensable for Utilities providers like Water, Gas, Electricity & Energy too.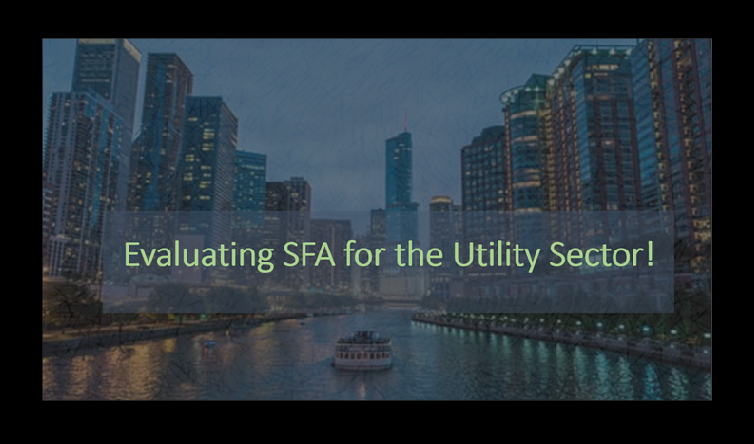 SFA for Utilities Sector
The utility sector traditionally has specific activities to be performed in the field directly. Distribution control, resource utilization, meter readings, spot checks, spot billing, on-ground services & maintenance are certain important activities critical to deliver satisfying customer experiences ultimately having a huge influence on sales.
With privatization making concrete in-roads within the utility sector, along with increasing customer demand for better services, competition is definitely on the rise. A comprehensive sales force automation system goes beyond the usual to offer services keeping the customer base strong & loyal.
The digital revolution was initially perceived as a threat to utility companies but for organizations willing to adopt systems & intelligent distribution, the technology innovations bring in radical changes. The utility value chain benefits from the use of modern day software for operations management & methodologies like SFA for sales planning & lead conversion.
Integrated Modules in a SFA
Sales Force Automation for Utility sector
The utility sector comprehensively covers electricity & energy, oil, gas and water distribution to begin with. The deliverables of the utility sector comprise of basic human necessities with an established demand for premium services in this area. A prudent sales force automation system strategizes to have the much-required offerings for this industry.
Modern digital solution frameworks leveraging support for energy distribution & resource management
Digitization of sales lifecycle in the utility value chain ranging from generation to end distribution in retail
Data driven strategies for predictive maintenance & planned outages synchronized with usage trends
Business intelligence keeping a tab on demand and supply value chain within utility sector to keep the balance
A serious focus on customer experiences as well as workforce experiences in tune with modern day expectations.
Ideal Feature of SFA for Energy & Utilities
Drawing up a comprehensive list of features and evaluating an ideal list for Mobile Sales Force Automation Software for this industry is no mean feat.
Flexible Hosting
An SFA would ideally have the option of being hosted on-premise or on the Cloud. A certain balance is necessary and the flexibility & scalability of the Cloud is the most practical need today for seamless accessibility for all stake holders and most importantly the sales team themselves.
With a lot of utility equipment installed on field, as well as in the industrial zones, the hosting flexibility of the overall technology solution is an important parameter. Capturing behaviors & patterns seamlessly become easy enough and help generating actionable insights for better decision making capabilities of the sales force.
Omnichannel Engagements for all Users
It goes without saying that a robust sales force automation framework needs to be seamless across devices with tightly coupled enterprise mobility features to make it a system available across channels of choice to the users. This uniformity across channels puts the customer at the center of the solution making omnichannel experiences the most successful ones today.
Omnichannel is More Than What Meets the Eye

IoT Enabled Solutions
The integration of devices & sensors like the beacons with the mobile devices, databases and the stakeholders themselves lead to automation of tasks and help continuous collate of data pertaining to utilization of resources & generate usage patterns.
Internet of things brings in automation to a variety of workflows in the enterprise. IoT becomes the key link to bind the various devices with the humans to offer quick decision making with improved insights in automated sales force systems.
Ensured Data Security & Mobile Device Management
The data in a IoT powered Mobile Sales Force Management Application travels between back office, field and user devices making it more than mandatory to maintain security & privacy on the communication channels as well as data stores.
An appropriate MDM policy in place for the SFA is a vital requirement to monitor, manage & secure devices & their transactions for all users accessing the systems through a variety of touchpoints.
Reliable Back Office Integration
The utility sector always has had the challenges of extensive administrative processes, be it supply chain paperwork, distribution channels, billing for utilities, tracking customer base, coverage of all field & digital assets to name a few.
Sales force automation based solutions have the capabilities of integrating back office processes and overcome these challenges. This allows organizations to think beyond the sales pipeline and make use of SFA features for day to day operations as well operations.
Digitization plays a major role in allowing the utility sector to integrate operational & administrative processes with tools empowered by SFA.
In a Nutshell
Contemporary  Mobile Sales Force Automation Software are the very powerful, all in one and exhaustive solutions catering to the unique requirements of the energy sector putting information on the fingertips of the sales force 24*7. They prudently integrate various requirements of the enterprises & its workflows into a comprehensive solution offering superior user experiences for all stake holders associated with it.
These power-packed systems flaunt synergetic combinations of trending technologies leaving no scope of further competition.
Visit
http://www.mobilesalesforceautomation.net/
&
Request
A FREE DEMO
To Know our Solution Better
Visited 57 times