While India is waiting for GST to create history very soon, responsibilities lay on everyone's shoulders including ours to usher in an applaudable change of this grand scale. Since GST is set to cover every possible industry, every possible product and every possible service, we integrate our vision into all our solutions to keep delivering the most appropriate to users across the spectrum; customers, partners & employees.
ZooM, our very own mobile sales force automation software is no exception to this change very obviously predicted to impact every possible aspect of the supply chain, including sales. ZooM mobilizes & automates the activities of the sales force, customer executives & the field representatives, synchronizing them with the back office. With very competent reports & dashboards coupled with intelligent analytics SPEC INDIA's Zoom puts business critical information on the fingertips of all. The end result is a comprehensive solution powered by trending technology focused on improving the effectiveness of the sales workforce; right from the field force to their managers.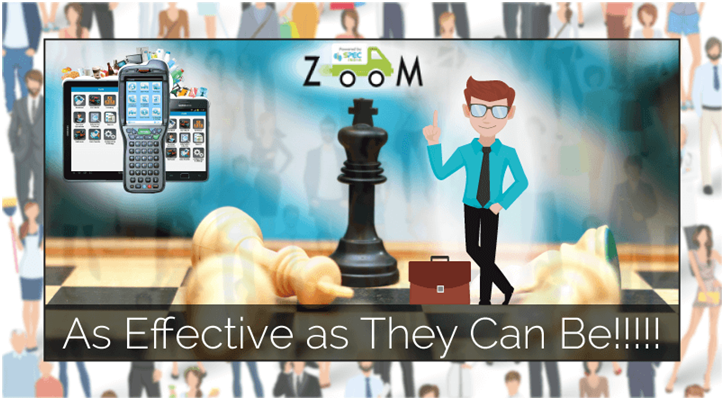 Integrated Processes for Improved Efficiencies
ZooMing in Effectiveness of Sales Workforce
The effectiveness of the sales workforce leading to the increase in sales & RoIs remains the most obvious reason for implementing a SFA. ZooM caters to this ideology through its own approaches focusing on vital aspects of sales tracking software making it a complete & extensive system.
Lead Management for Easy Visibility of Opportunities
Collecting data from multiple channels, our SFA curates the data appropriately to obtain relevant analysis to generate promising leads & indicate opportunities. Sales & Marketing personnel in close sync can fruitfully analyze the context before approaching the prospects to increase the chances of culmination. Intelligent strategies are a strong feature from ZooM to the benefit of the sales workforce across domains.
Competitor Management & Insights for Tactical Planning
Competitor analysis and market watch is an important part of the ZooM SFA system to offer insightful information to keep potential threats under bay as well as take introspective actions for leads not culminated.
Customer Relationships for the Long-Term Vision
ZooM focuses on the customer relations, a very important part of every SFA by arriving at strategies to meet customer expectations by continuous analysis of customer feedback, complaints and visit records giving a definite push to how sales people perform.
Quick Collaborations for Resourceful Teams
ZooM facilitates appropriate communication amongst the teams and keeps up the synergy to improvise performances of the sales group on the whole. Performance reviews & corrective actions become a part of the solutions adding on to competencies.
Staff Management for Supervisor Effectiveness
Our own Vehicle Tracking Solution & Mobile Device Management Solution value add to the powers of ZooM. These niche software ensure that the managers are always in the loop of things happening with the sales force people and take corrective actions to keep efficiencies on the right track.
Effective Management of the Field Force

Linking KPIs to Business Processes for Improved Visibilities
As a powerful Sales Force Automation software, ZooM enables appropriate KPI measurements providing the workforce to plan, strategize & correct appropriately.
Common KPIs like potential leads analysis, new customer acquisition, existing customer transactions, order generation, sales order cycle execution, outstanding and payments from customers, demographics or territories based indicators shown by using analytics, reports and intuitive dashboards prove to be more than helpful.
Offering Effective Dashboards with Powerful Analytics
ZooM incorporates business intelligence to support the sales workforce displaying the real-time status of the system at all times. Availed as self-serviced information or the standard one these reports & dashboards for SFA collate data from multiple channels to communicate the most relevant information to the workforce to drive their success.
Preferences of possible customers can be predicted from the past data & trends. The SFA integrates this information into itself and allows the sales force to plan appropriate communications and offers for products and services made, increasing the chances of sales to happen.
Keeping the Workforce Informed for Product Performances for Better Sales
ZooM empowers the sales force to assess the success rates of the products & services on offer and strategize in accordance of the mood of the markets keeping up the numbers of the sales.
In a Nutshell
With shortened sales cycles and a tremendous increase in the effectiveness of its sales people, this SFA helps closure of sales deals, reduces sales cycle times and improves customer engagements manifolds. As technology shifts from traditional to mobile based, so does the SFA shift to Mobile SFA, with an aim to offer the field force better flexibility and improved communications with the back office and supervisors to add up to the speed of operations.
ZooM then is a robust solution to adapt as it ensures superlative experiences at work and improving effectiveness of sales force automation manifolds through tightly coupled optimized processes. The appropriate collection & curation of data and making available critical information 24*7 through reliable analytics is makes this a responsible SFA.
Visit
http://www.mobilesalesforceautomation.net/
&
Request
A FREE DEMO
To Know our Solution Better
Visited 53 times